Save the Dates!
HLC is partnering with Church Doctor Ministries to help our church complete a pastoral succession plan, provide an assessment of the health of our congregation and to give recommendations to invoke transformational change to effectively implement Jesus' Great Commission to make disciples of all people. (Matthew 28:19-20) Here are important dates and updated information to mark on your calendars.
Breakthrough Potential Audio Recording
On the HLC website there is a new section on the front page in which you can click and access information regarding our partnership with Church Doctor Ministries. On the page is an audio file recording of the Breakthrough Potential Survey presentation by Tracee Swank. You can access this recording and other information at our website at: www.hebronlutheran.org.
Fundraising
We are still in need of additional funds to pay for various miscellaneous items, i.e., expenses for on-site visits, shipping costs, office supplies, food and beverage, and future implementation of projects and recommendations. If you are led to give to this important partnership, please be in prayer and give as you are able. All funds received will pay for expenditures related to Church Doctor's and our ongoing partnership. Thank you for your continued support.
Onsite Visit
Saturday, June 1, 2019: Breakthrough Readiness Presentation – From 7:00 p.m. to 9:00 p.m., Tracee Swank from Church Doctor Ministries, will be at HLC to discuss the results of the Breakthrough Readiness Survey with Council, ministry leaders, and congregational members who took the survey and are interested in the results. We will meet downstairs in the Old Fellowship Hall. Light snacks and refreshments will be available.
Sunday, June 2, 2019: Oral Report – We will have one unity worship service at 10:00 a.m. followed by a potluck lunch (main dish to be provided by Council). Tracee Swank from Church Doctor Ministries will be our guest preacher for the day. At approximately 1:00 p.m. Church Doctor Ministries will conduct an oral report to the entire congregation. The report will be divided into three categories: 1) a general overview of the consultation process 2) discuss some of the recommendations for HLC 3) provide a question-and-answer session. The oral report will last about three hours or more depending on the amount of questions asked. This is an important event and we encourage all members to attend if possible.
Monday, June 3, 2019: Breakthrough Readiness Presentation – From 9:00 a.m. to 11:00 a.m. Tracee Swank from Church Doctor Ministries will discuss the results of the Breakthrough Readiness Survey with church staff members only.
Tuesday, June 4, 2019: Ministry Roundtable – From 9:00 a.m. to 12:00 p.m. HLC will host a Ministry Roundtable for leaders in our church and pastors in our community. Tracee Swank from Church Doctor Ministries will discuss effective outreach strategies in reaching our community for Christ. The event will be free for leaders and members of our church and $35 for all others.
If you have any questions, please see:
Bill Jarvi – Succession Team Leader Or Rick Kloos – Internal Coordinator and
Liaison for HLC and Church Doctor Ministries
----------------------------------------------------------------------------------------------------------------------------------------------------------
Church Doctor Ministires Presents
Reaching the Unchurched Round Table
Register by May 28th!

Your Hebron Lutheran Church invites you to participate with our leaders and your other sisters and brothers at HLC in a Church roundtable workshop called Reaching The Unchurched being led here by Tracee J. Swank, who is the leader of Church Doctor Ministries, the nonprofit Christian ministry that has helped hundreds of congregations of many different denominations and is currently serving as our consultant to help us do our ministry and Great Commission work more effectively for God's glory and the growth of our church. This Roundtable is on Tuesday, June 4, from 9:00 a.m. to 12:00 p.m. at Hebron Lutheran Church, 3140 Limaburg Road, Hebron, KY 41048. This workshop is free to Hebron Lutheran Church members and attenders and includes a free copy of Who Broke My Church? by Church Doctor Ministries Founder, Kent R. Hunter. Registration is just $30 each when three or more come from the same church. Ways to register: online at whobrokemychurch.com/events; by phone toll free 800-626-8515; or by e-mail wendy@churchdoctor.org, or call/e-mail Sonya at the Hebron Lutheran Church office, 859-689-7590 or sonya@hebronlutheran.org. This roundtable is also open to your friends from other churches of all denominations in our area, too. So please invite friends, because we want to do everything we can to encourage and strengthen all God's churches in our community! Feel free to share this information with everyone you believe would be interested!
This is an important time of transition in our congregation and unparalleled change in the culture around us. This insightful workshop will help us all to be at our best as we move together into the future that God has in store for us! It follows quickly on our Church Doctor Ministries consultant, Tracee Swank's preaching and giving her Oral Report with Recommendations to the congregation on Sunday, June 2, at 12:30 p.m. after she preaches first at the one 10:00 a.m. worship. I encourage you to make every effort you can to be present June 2 and June 4 to gain as much insight and encouragement as we can from this wonderful servant of God and experienced consultant to churches.
Joyfully yours in Christ,
Pastor dave
Pastor David W. Shockey
Hebron Lutheran Church
"We love, because He first loved us!" (1 John 4.19)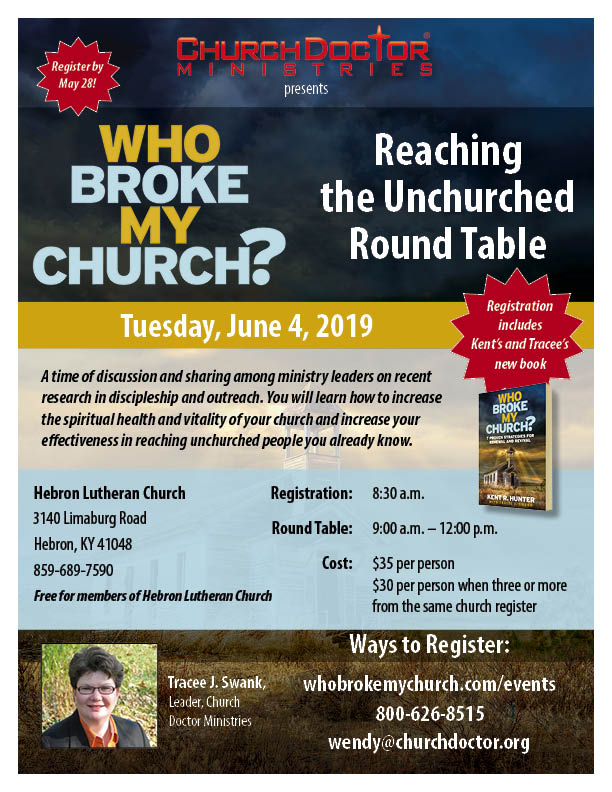 ---
Hebron Lutheran Church
|
Wednesday April 10th 2019
---
Other Episodes from the series